RESTAURANT GUIDE
Welcome To
The Restaurant Guide
As our company has grown, our client list has become something of a guide to the most forward-thinking, standard-setting chefs and restaurants in the business. Click to find your next next-level meal.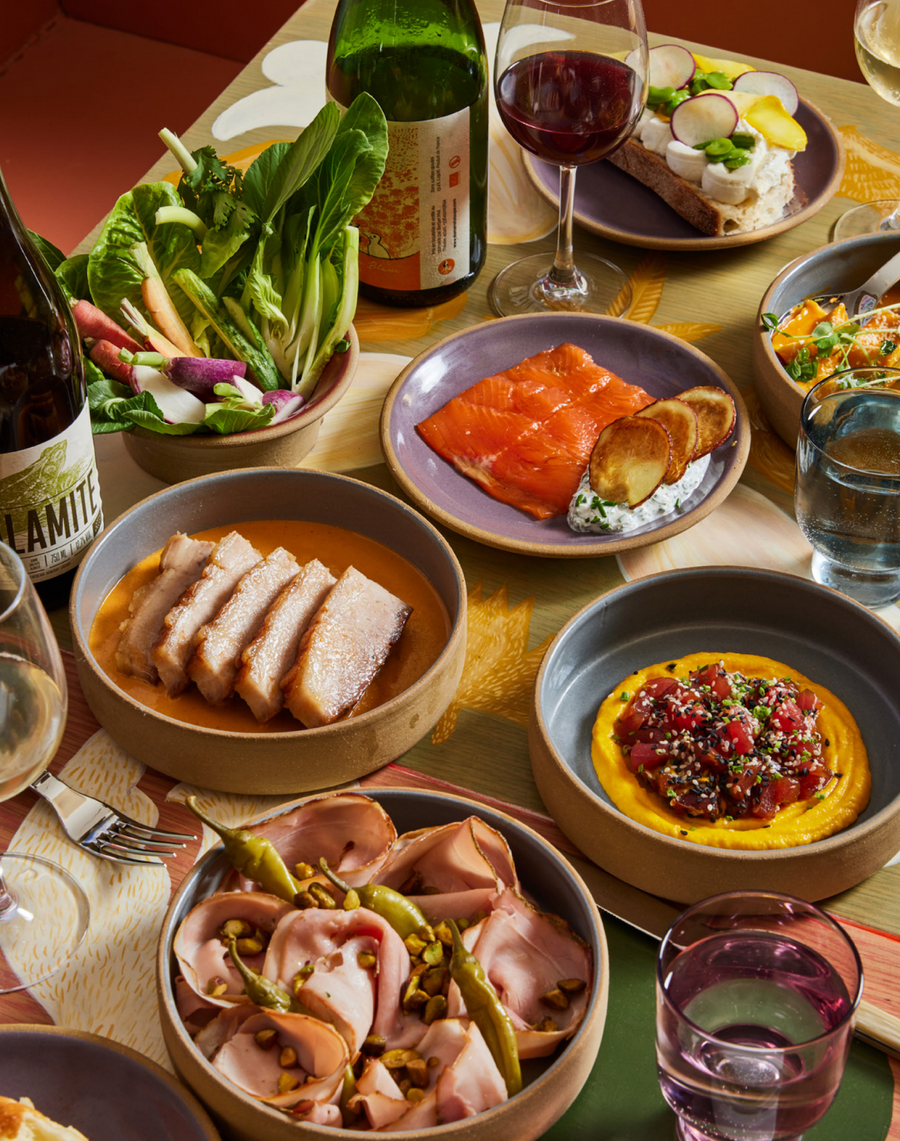 NORTHEAST
NORTHEAST
FEATURED RESTAURANTS
Barano
26 Broadway, Brooklyn, NY 11249
A red-sauce-soaked upbringing on Staten Island, along with time spent at legendary restaurants Le Cirque and Osteria del Circo, inspired chef Alberto DiMeglio to open Barano. Out of a wood-fired kitchen, he and his team make pastas by hand, pull their own mozzarella, and cook with care. The result is satisfying pastas, pizzas with the right amount of puff and char — plus chicken Parm just like nonna's.
VISIT SITE
Cosme
35 E. 21st St., New York, NY 10010
You may recognize this dessert: a cloud-like meringue cracked in half and bursting with a golden corn mousse. (It's plated on a dish you definitely know.) This sweet reigned on Instagram for years, but it's just a taste of the adventurous and delicious cooking on display at chef Enrique Olvera's contemporary Mexican restaurant. From duck carnitas to black-sesame-infused tamal, Cosme continues to push the envelope.
VISIT SITE
Lilia
567 Union Ave., Brooklyn, NY 11211
If anyone can toe the line between rustic simplicity and fine-dining flourish, it's Missy Robbins. The former chef behind Spiaggia and A Voce specializes in regional Italian cooking, but she's acclaimed for what she can do with some egg yolks and flour. Out of a renovated garage, she showers pink peppercorns over toothsome malfadini and stuffs gorgonzola into ravioli, all of which shine on Toasted clay covered with white glaze.
VISIT SITE
Manhatta
28 Liberty St., 60th Fl., New York, NY 10005
Come for the breathtaking views from the 60th floor, stay for the globally inspired dishes. The recently revamped restaurant, complete with new chef (Justin Bogle) and all new dinnerware (natch), is rooted in technique and whimsy. Thin strips of squid are tossed with daikon for a cross between a cold noodle and a ceviche, while cote de boeuf for two comes with roasted caraflex cabbage.
VISIT SITE
Moonflower
201 W. 11th St., New York, NY 10014
This psychedelic wine bar from Rowen McDermott and Rebecca Johnson of Jersey City's Frankie fame is all about vibrant colors (take a gander at Johnson's murals on the walls), rich textures (feel the upholstery), and, yes, natural wines. You can sip refreshing and somewhat rare bottles, like Andrea Scovero's barbera rosato, alongside farmers'-market-driven snacks and a big plate of thinly shaved mortadella. You'll want to whip out your phone to capture the funky, fun vibes of the space as well as our custom lavender-hued dishes.
VISIT SITE
SOUTH
SOUTH
FEATURED RESTAURANTS
Hail Fellow Well Met!
5519 W. Hackett Rd., Ste. 101, Springdale, AR 72762
It's impossible not to have a good morning at this sunny cafe outfitted with pastel terrazzo, ombre-glazed plates, and house-roasted coffee you can order by the carafe. The folks behind Onyx Coffee Lab dreamed up this daytime space, where you can get your morning dose of avocado toast alongside a salted caramel latte or sink into an afternoon on a full belly of "thrash" browns and a glass of natural wine.
VISIT SITE
The Elysian Bar
2317 Burgundy St., New Orleans, LA 70117
You may pop into this restaurant because of the buzz you've heard about chef Alex Harrell's tight menu of dreamy, delicious things (pillowy gnocchi with crab and ricotta, grilled butternut squash under a pepita-crumble shower) or for a stiff cocktail (you're in NOLA afterall). Said delicious things are served on dishes with hand-painted blue and yellow stripes, inspired by Monet's garden at Giverny, by the way. Or perhaps it's because you're drawn to the romantic Hotel Peter & Paul, an old church reincarnated as a blissed-out hotel by ASHNYC. Whatever your reason, you'll be glad you wandered in.
VISIT SITE
Ruse at The Wildset
209 N. Talbot St., St. Michaels, MD 21663
In this charming, old-timey town on the Chesapeake Bay, chef Michael Correll is crafting a distinctly contemporary version of Eastern Shore seafood. An alum of Fleet St. Kitchen and The Elk Room, he highlights extremely local ingredients (just look at the oyster list!) and plays with the form of classic seafood dishes. Fermented chili butter finishes roasted oysters while trout dip comes with a drizzle of dill oil and housemade potato chips.
VISIT SITE
The Dutch
300 12th Ave. S, Nashville, TN 37203
This Nashville outpost of Andrew Carmellini's hit NYC spot serves up his beloved seasonal American cooking (which makes for a great start to a night at the honky tonks downtown).
VISIT SITE
MIDWEST
MIDWEST
FEATURED RESTAURANTS
Mad Nice
4120 2nd Ave., Detroit, MI 48201
Yes, there's pizza, and yes, it's in Detroit, but you will not find anything deep dish here: Mad Nice looks directly to Italy for their menu and serves up their fare in a modern setting.
VISIT SITE
The Walker Art Center (Cardamom)
732 Vineland Pl., Minneapolis, MN 55403
Many of the restaurants chef Daniel del Prado oversees are grounded in good vibes, genre-bending dishes (potato churros forever and amen), and our studio's dinnerware. Inside the city's renowned contemporary art venue, you can take in works by Nam June Paik and Kara Walker, then slip inside del Prado's Mediterranean restaurant for fried cauliflower garnished with carrot-harissa mayo, hefty lamb burgers, and roasted squash in a pool of sweet and spicy tahini. After paying the check, walk off your meal in the sculpture garden, which is open late most days.
VISIT SITE
WEST
WEST
FEATURED RESTAURANTS
Bell's
406 Bell St., Los Alamos, CA 93440
This French-y restaurant run by Daisy and Greg Ryan turned Los Alamos from a sleepy town into a restaurant destination, but the couple doesn't let that get to their head. Daisy is the chef and balances exacting restaurant technique with a flair for fun in her dishes—steak au poivre with a mess of fries, a stacked mille-crepe with Santa Barbara uni, grilled cheese with a Parmesan crust (on the kid's menu! Yes, a kid's menu!)—while Greg's front-of-house experience imbues warmth and the right amount of spontaneity to the space. It all adds up to a restaurant that's special enough for an occasion but chill enough for every day.
VISIT SITE
Felix Trattoria
1023 Abbot Kinney Blvd., Venice, CA 90291
For chef Evan Funke, pasta-making is nearly a religion. He trained under pasta master Alessandra Spisni before opening the restaurant, outfitted it with a temperature-controlled lab in the middle of the dining room, and still considers himself forever a student of pasta, eager to find the next shape and style he can obsess over. Lucky for us, we can enjoy the results of his intensive research in the form of tonnarelli cacio e pepe, spaghetti frosted with bottarga, and linguine alla limone, all of which is often presented in a custom bowl made specifically for serving pasta the Funke way.
VISIT SITE
Puesto
5010 Mission Ctr. Rd., San Diego, CA 92108
Blue corn, grassy flavored and slightly starchy, is essential to Mexican cuisine and, naturally, this taco-slinging restaurant group founded by Mexican-American cousins. Inspired by the regional Mexican food they grew up with, the founders tapped chef Luisteen Gonzalez to develop a menu that reflected what they love about their cuisine: handmade tortillas with masa harina from Masienda, rich fillings like filet mignon and garlicky mushrooms. We made sure to craft dinnerware up to par, creating ombre plates for serving a single taco and robin's-egg-blue ovals to hold a few more.
VISIT SITE
Tavernetta
1889 16th St., Denver, CO 80202
Traveling and cooking throughout Italy seems to be a prerequisite for working at this pasta palace. Founded by chef Lachlan Mackinnon-Patterson and sommelier Bobby Stuckey and now helmed by executive chef Cody Cheetham, their collective love of regional Italian specialities shines on the menu. Think thick tagliatelle tossed with Maine lobster, ricotta-stuffed squash blossoms, and fennel-seasoned rotisserie chicken.
VISIT SITE
INTL.
INTERNATIONAL
FEATURED RESTAURANTS
Aurora Anguilla
Rendezvous Bay, Anguilla, 2640, Anguilla
This art-filled, revamped resort—with 178 relaxing rooms, kite-surfing and coastline hiking, and six restaurants (and one hydroponic farm!)—isn't just a noteworthy opening but a gamechanger for the island: It's open year-round. That means 12 months of tropical-leaning seafood offerings (conch fritters, wood-fired octopus with roast potatoes) at Kitchen Table, lobster barbecues at Eventide, housemade pasta and crudo at Marella, and even sushi at Tokyo Bay. Better start saving up those vacation days.
VISIT SITE
Miranda Bakery
C. 75 Este, Panama, Panama
Not just a bakery, it turns out: this buzzy spot has diners lining up for both their dulce de leche lava cake and the American-style burger, topped with a fried egg.
VISIT SITE
Hawksworth Restaurant
801 W. Georgia St., Vancouver, BC V6C 1P7, Canada
In 2011, chef David Hawksworth dared to open his first restaurant and cook what would become contemporary Canadian food. The rest is history. Hawksworth combines the technique and sensibility he picked up at Michelin-starred restaurants abroad (Le Manoir aux Quat' Saisons in the U.K., L'Escargot in France) with his home country's rich ingredients (pine mushrooms from British Columbia, beef tenderloin from Alberta). It all adds up to forward-looking meals people continue to hype up today.
VISIT SITE