what are you looking for?
"Jono Pandolfi's hand-thrown ceramics are so epic that they adorn the tables of Michelin-starred tables and our very own list of excellent dinnerware sets."
"In addition to dinner plates, the collection includes cereal bowls and mugs, each piece thick yet elegant, making them as ideal for everyday use as they are for classy dinner parties."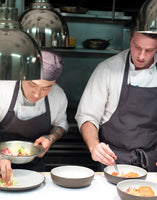 Meet our clients
The innovative chefs we work with are the heart of our brand. Their culinary imaginations and the real-world demands of their fast-paced kitchens have inspired everything from Jono's designs to our meticulous but efficient production processes. Consider our Restaurant Guide a directory for the most coveted dinner reservations in the world right now.
See Our Restaurant Guide
It's really amazing to work with Jono, a local craftsman who is creating sustainability only two miles from my restaurants. The shape of the line and the organic tones of his dinnerware match the ethos of our cuisine.

Executive Chef, Jean-Georges Restaurants
Diners want a show. That's why we meticulously hollow out beets and stuff them with their own salt-roasted greens. And that's why we went with Jono's elegant, handcrafted dishes to set off the more elegant, carefully plated recipes. Diners don't just want to have dinner anymore. They want to be dazzled.

Chef & Owner, Dirt Candy, New York City
Working with Jono has been really inspiring — his plates spark creativity in our kitchen and they really do make the food look so beautiful. They're also very sturdy while still retaining their elegant look and feel. When I'm workshopping new dishes, I always pull a Jono Pandolfi plate to start off on the right foot.

Executive Chef, Four Horsemen, New York City
I'm so excited to showcase these super-pretty dishes. They add so much color and an artistic element to the Girl & the Goat dining room. The dinnerware brings a welcoming comfort and fun design while complementing the food we serve on them. I can't wait for our guests to see what we have cooked up and dished out!

Chef & Owner, Girl & The Goat, Los Angeles and Chicago
We love our Jono plateware and our guests love it, too — it's the most commented-on line we carry by far. The pieces merge rustic and elegant design, which is the perfect match for our dining room set in a barn. They're also very durable, which is necessary for our small dish pit!

Executive Chef, White Barn Inn, Kennebunkport, Maine
Jono's dinnerware is beautiful and modern. It's great to have in service at our restaurant because it's both durable and good-looking.

Owner and Executive Chef, Kochi, New York City
When we wanted a partner to help us create a genuine and authentic experience in our dining room, we sought out the master Jono Pandolfi to advise us. His creativity and craftsmanship merged instantly with my approach to my favorite American cooking style: grilled meats and fish. For me, the grill is earth and fire, and Jono's kiln is one and the same. It has been a wonderful collaboration from day one."

Chef and Owner, Porter House Bar and Grill, New York City
You have to work hard to find something that will change the way you think and Jono Pandolfi did that for me a few years back. Custom plates play a major role in my restaurants and Jono's stand out against the pack of commercial dinnerware. Clean lines, great shapes, and the best materials make his dinnerware truly original. He's helping to change the way chefs think about food and presentation.

Executive Chef, Azhar, Toronto
A perfect example of form and function. Not only is Jono Pandolfi dinnerware a beautiful canvas, it performs and endures as well. I never have to worry about stacking them too high or accidentally bumping or chipping them.

Executive Chef & Partner, Peso Hospitality, Los Angeles